Patient Testimonials
What others say about chiropractic care can help you make the right health care choice. Review a selection of Santoro Chiropractic P.C. patient testimonials below and email me or contact our office if you have any questions.
I for once feel that I found someone who wants to help instead of just trying to make a buck just crack you not ask questions n send you on your way Thank you for listening and talking with me.

I felt instant improvement and reduction in pain after my first visit. I know it will be a process to full recovery but am encouraged after seeing immediate results.

My first visit was informative. The questions asked and then having her listen to your answers was helpful in understand what is going on with my issues!

I would highly recommend Santoro Chiropractic to my friends, co workers, and family.

Great, professional practice!

I am so impressed! I love the explanations, whole person wellness approach, and incredible service I received! I can't wait to bring my whole family for treatment.

Finally a doctor that listened and made sense of my symptoms, and has the ability to decrease the intensity of those symptoms.

I was made to feel comfortable and at ease and Dr. Santoro took all the time needed to go over my history, do the X-rays and begin treatment. And … I got a tremendous amount of relief from my first treatment! Thank you!

I loved the thoroughness of my first exam! I felt like i really mattered and that you care enough about my pain to help me. i felt a lot of relief after just one adjustment! I can't wait to come back.

I was surprised and very impressed that Jeannie called me the next day from my appointment to see how I was doing! It made me feel that I was important!

I look forward to obtaining our goal of getting my health back in order.
---
The Doctor Was Thorough
I liked how things went. The doctor was thorough! She stated that she would have a plan for my care the next time we meet and that is making me feel better that a professional plan for wellness will be introduced. My intentions are to follow her plan.
~Sondra Z.
Very Kind and Helpful
The staff was exceptional- very kind and helpful. Dr. Santoro put me at ease immediately. She was very thorough in my health history and also in explaining what her recommendations might be. I believe she can help me.
~Debra L.
Discussed Care
I appreciated that Jeannie wanted to call my son, also a chiropractor, to discuss my care with him. The fund raiser to send Balloon Buddies to nursing homes is a compassionate community outreach and such a thoughtful thing for this practice to do.
~Barbara M.
Completely at Ease
From my first phone call to the office until I walked out the door after my first visit, every single interaction was perfect. The set up in Dr. Santoro's office is very well thought-out. She explains in simple enough terms what to expect and why certain procedures are followed. I was completely at ease and even felt some improvement between my first and second visit. I can highly recommend Dr. Santoro's professional services.
~Donna M.
Immediate Results
Dr. Santoro was very kind, gentle, and made sure that I knew what was happening at any given time. I often have the experience with doctors that I am not told what is going on and am in a state of uncertainty. This was not the case with Dr. Santoro. Plus, I saw some immediate results after the very first appointment!
~Casey H.
Wish I Would of Started Sooner
Jeannie is wonderful. I was referred to her during my 3rd trimester of pregnancy and it's definitely helping my mind and body to stay relaxed and comfortable as I near the finish line. Wish I would have started sooner and will definitely see her after delivery to help my body heal as everything shifts back into position.
~Alissa A.
Excited of My Treatments
I am excited about how my treatments will improve my overall well being. I absolutely loved the fact that Dr. Santoro explained my spine problems in a way that I could understand. The x-rays were definitely shocking to see what was causing most of my problems.
~Madonna H.
Appreciate the Care
Thank you for squeezing me in your very busy Monday. I appreciate you taking all the time with me that you did. Although I do not feel a lot of relief after a first visit, I do feel VERY hopeful. I actually look forward to returning in two days. I want to learn more about my condition when you have more time. Again, I appreciate the amount of time you spent with me for a emergency appointment. I had an EXTREMELY positive first experience. Thank you!
~Christina P.
Dr. Santoro was amazing!
I was in so much pain and they got me in the day I called even though they were busy and I was a first time patient. She even called me afterwards to see how I was feeling. I can't recommend them enough!
~Jennifer G.
Able to Function
I very much appreciate Dr. Santoro fitting me in despite a busy day. She was very compassionate about my injury and willing to come in early to help me. After a thorough evaluation, Dr. Santoro made some adjustments and gave me IMMEDIATE relief. I realize that is only the beginning of the healing process, but it made a big difference in my being able to function.
~Cheri W.
Following a Recommendation
I heard about Dr. Santoro through multiple sources – cards where I work, clients and colleagues. I'm happy that I followed up on the recommendations. Dr. Santoro is very thorough and highly skilled in her work. She is also very warm, personable and down-to-earth. I'm looking forward to continuing to work with her to improve my health.
~Elizabeth R.
Appreciate the Relief
I very much appreciate the relief that I am feeling now due to Dr. Santoro's experience, talents and skills. It is so very important for any medical provider to truly listen to the patient's story – what hurts, where and why. Dr. Santoro has. So between my sharings, her listening, and her fine skills I am much more flexible physically and in greater physical comfort than I have been for the past many, many months.
~Rebecca
My Story of Physical and Mental Recovery
Because my parents were always kind to me, I felt a special bond to them. When the time came for me to take care of them, I was given many challenges. Dr. Santoro is one individual who makes a huge difference in my health. Even though I had met several people who told me that going to the chiropractor had helped them, I had never been until last fall. Recently, I was injured in my work and the impact on my health was profound. However, with the help of Dr. Santoro and her staff, I can be carrying on as a caregiver for my mother.
If you are suffering and are willing to try a holistic health care approach to prevent using "crutches" such as alcohol and drugs, you will be surprised at how truly effective this form of health care is when combined with diet and other therapies such as deep tissue massage.
Thank God there are people like Dr. Jeannie Santoro and her staff.
Sincerely
~Erica H.
Chiropractic Helped my Pregnancy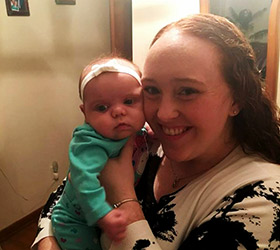 When I was around 7 months pregnant I found out that my baby was laying sideways instead of head down like she was suppose to be. I immediately started seeing Dr. Santoro and prayed that her services would help me. Soon after I started receiving treatment, I found out that I had pre eclampsia. I was dealing with swollen ankles and severe lower back and hip pain. After several visits, I started to notice that the swelling in my ankles had gone down and that my hip pain was less. After I was put on bed rest I continued to see Dr. Jeannie. Toward the very end of my pregnancy, at one of my appointments Dr. Santoro found out that Sadie had moved into the proper position for child birth.
Shortly after Sadie was born, we went to see Dr Jeannie for her to have her first adjustment. I was relieved to not have to have a c-section and that Sadie was born healthy and happy. Thank you just doesnt seem to come close to expressing my gratitude!
Thanks so much!
~Tasha
A Thorough Visit
I thought it was great. My first visit was much more comprehensive than I expected.
~Jillian K.
Detailed and Personable
Dr. Santoro made me feel very comfortable, she encouraged questions and did not make me feel rushed. She explained everything in great detail and made me feel very encouraged that she can help.
~Jane R.
Starting a Wonderful Relationship
I really enjoyed meeting everyone at the office, felt very comfortable and was treated with empathy and respect. I was made to feel very cared for and left knowing that this was just the start of a great relationship moving forward to taking better care of my overall health.
~Bridget P.
Best Treatment Being Provided
I have been to about 5 other chiropractors before and this is the first time I was truly given an explanation and shown xrays regarding my condition. Normally I would lose confidence in paying the cost of the appointments to receive a better outcome and would discontinue sessions due to the cost, but with Jeannie I could tell she took the time to really diagnose my individual problems and I have confidence that she is doing the best types of treatment to relieve and improve my pain/discomfort. I have felt improvement and now have no doubts in my treatment like with previous chiropractors that didn't take enough time to be this thorough. That has truly made the difference for me. Thank you!
~Marissa Z.
Extremely Impressed
First and foremost , Mary is an exceptional front office staff personnel, very helpful upon calling the office and it carried over upon arriving for my appointment. Appreciated the quickness of my appointment. (Same day!!) I was extremely impressed with Dr. Santoro professional demeanor and the follow up call from Dr. Santoro. This was the first time after a chiropractic visit that the doctor cared how I felt after my initial visit. Was very happy with my first treatment. Feel much better and know that Dr. Santoro will get me back to where I was before my issues began. Great practice, will definitely recommend to others.
~Patricia K.
Nice Upbeat And Friendly!
My first time and I found everyone to be very pleasant, nice upbeat and friendly! Feeling very confident in the treatment I will receive and hopefully be feeling myself again. One doctor appointment I'm actually looking forward too going too because they give off such a great vibe in the office!
~Kellee B.
Everyone Is Helpful And Friendly
I love how helpful and friendly everyone is here. Is like being at home. Everyone goes out of their way to help you and I was very amazed that Jeannie called me the same night as my first visit personally to see how I was doing. What doctor now a days really does this. I'm very pleased.
~Tammy W.
Kind, Helpful And Caring
I was very appreciative of being seen the same day I called for an appointment due to a cancellation. Although my situation was unusual, Jeannie was willing to think "out of the box". Everyone was kind, helpful and caring. Thanks to all.
~Judy B.
Relief
After only 5 visits I am experiencing relief from many of my symptoms. I am grateful for the compassion and professional expertise of Dr. Santoro. She is using techniques that are very specific for my limitations.
~Marilyn B.
Very Pleased
I was very pleased with my first visit. Dr. Santoro gave me the best examination and council of any chiropractor I have been to. I am looking forward to very positive results.
~Robert J.
Fantastic Chiropractor
Dr. Jeannie is fantastic and I will never go to another chiropractor! She is very knowledgeable in her profession and I could not ask for a more caring, compassionate doctor!
~ Shauna L.
Finest Chiropractor
This is the office of the finest chiropractor I've ever known. This, after a lifetime on and off with several different chiropractors over the past 47 years.
~ Wayne O.
A Sense of Well Being
Dr. Santoro relieved my leg pain, within the first few visits. She also taught me simple everyday exercises to target specific muscles to build strength, no other doctor has ever given me exercises to help me, they just would prescribe another pill to take. I have found a sense of well being in my chiropractor.
~ Ella Mae R.
Able to be More Active
One day I woke up with leg pain. I didn't do anything the day before to hurt myself, but as the day went along the pain in my leg got worse. It made me walk bent over and my leg even went numb. It got worse and worse over the next few days. It affected how I sat, stood, worked, and slept – everything. I saw Dr. Santoro and she started with the table that bends in the middle. She told me it was Sciatica and not a problem with my leg, but my back, disc and nerves. It took a few weeks but I started to see progress. I am doing much better now and can work and do what I want. I have been able to be more active now.
~JGS
Benefit to my Overall Health
I had no specific complaints when I started to see a chiropractor. My goal was to reap all of the benefits of adjustments. Throughout my chiropractic care, I noticed that my immune system strengthened. I was not getting colds or flu nearly as often as I previously had. A flu shot or medicine was no longer needed to prevent common illnesses. Receiving regular adjustments to eliminate problems before they surface has been the greatest benefit to my overall health.
~Shauna L.
Now Pain Free
I started chiropractic care when I had problems with my sciatic nerve. First, I tried extensive physical therapy recommended by my physician and had no positive results. Then, a family member suggested seeing a chiropractor to reduce my pain and numbness. After a few weeks, I started to see results and my pain was almost gone. With continued regular adjustments, I am now pain free and no longer have problems with my sciatic nerve.
~Mike L.
An Amazing Chiropractor
Dr. Santoro is an amazing chiropractor and has been so helpful to our family! Two of my children have mild scoliosis issues in their spine. After Dr. Santoro worked with them for almost a year, including giving them exercises to do on their own, our medical doctor could not believe the difference. Her chiropractic care is individualized, gentle, and effective. I highly recommend Dr. Santoro to you and your family!
~Keith M.
Totally Amazed
Chiropractors what do you think? Well I was that way, being in the medical profession I was skeptical. I have a series of health issues Arthritis, Diabetes, Fibromyalgia and other issues. Which all the medical profession wanted to do for me is give me medications. I knew there had to be other methods of relief. When I came to Jeannie I was unable to move my neck and walked with a limp and had elevated Liver enzymes. I was totally amazed after a few treatments I was walking better turning my head and my liver enzyme were normal. I could hardly believe what was happening to me.
If you have not tried a Chiropractor, please do!! It will be so worth your time to go to Dr. Santoro, she is amazing! Her knowledge and her treatment of you as a patient are wonderful and professional. Believe me she is the best. If you are having joint and muscle issues please go visit Dr. Jeannie Santoro.
~L.G
No antibiotics needed!
My entire family of nine has gone to Dr. Santoro every month and sometimes more often for adjustments. Our children have had an earache and after getting adjusted they had relief. I'm not saying they got up dancing, just the pressure was released and they would sleep through the night. We did a follow-up a day or two later for another adjustment and all was well. No antibiotics needed! Our children only go once a year for their check-ups to their pediatrician because we keep their spine in alignment, monthly.
~Kristy S.
Thank you, Dr. Santoro!
I suffer from neck injury and Myofascial Pain Syndrome. ( A condition similar to Fibromyalgia.) Dr. Santoro was instrumental in identifying my problems. She helped alleviate my symptoms, setting me on the path to recovery when medication was unable to help me. Thank you, Dr. Santoro!
~Melissa M.
Helpful during my pregnancies
Dr. Santoro has been so helpful, adjusting me through both of my pregnancies and adjusting my two children shortly after they were born. She adjusted me during both labors and really helped me to relax and work with my body. My (now) 6 month old's head began growing differently on the left side a few months ago and she has been extremely successful in correcting it. She is such a wonderful, caring doctor, she takes personal interest and an individual approach based on each person's needs.
~Rebecca
Should Have Done This Years Ago!
The only thing that would have made this experience better is if we had done it years ago! Dr. Jeannie has been awesome and her receptionist has been great as well.
~Sheila O.